Quick Ship Menu Covers with Custom Decoration and Options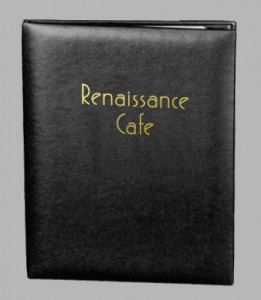 Our Quick Ship Menu Covers include custom decoration in your choice from 30 foil color options and are available with or without padding with NO ADDITIONAL CHARGE. We've manufactured and stocked popular sizes and configurations, and have them available for quick final assembly and shipping.
Covers are constructed in the USA using top quality leatherette book material. All edges turned in and under, over rigid binder board in your choice padded or non-padded styles with matching lining and no stitching. Menus are held in place with corner catches (picture album corners).
Available in Black only.
Advantages of Our Quick Ship Menu Covers
Includes custom decoration
30 colors of foil to choose from, Color Foil Chart
Matches our standard Del Mar Covers, Wine List Books and Covers, and Check Presenters so you can add these items at a later time and everything will match.
Ships in 7 to 10 business days.
Art and Die charge is a one time charge, this means no charge on re-orders or on any of our other standard covers as long as the image is the same size.
Choice of padding or no padding at no additional cost
Quick Ship Menu Covers Sizes
are based on insert page size
Price Each $ USD

Insert Size

Item No.

25-49

50-99

100-199

200+

Quick Ship Single (holds one insert page)

5½" x 8½"

131085S

11.50

9.75

9.25

9.00

4¼" x 11″

131041S

12.50

10.50

10.00

9.75

8½" x 11″

131081S

13.00

11.25

10.50

10.25

8½" x 14″

131084S

13.75

11.75

11.25

11.00

Quick Ship Double (holds two insert pages)

5½" x 8½"

131085D

15.50

13.50

12.75

12.50

4¼" x 11″

131041D

16.50

14.25

13.75

13.50

8½" x 11″

131081D

18.50

16.25

15.75

15.25

8½" x 14″

131084D

21.75

19.50

19.00

18.50

Quick Ship Book Style – 4 (holds four insert pages)

5½" x 8½"

131085B

22.25

20.00

19.50

19.00

4¼" x 11″

131041B

22.75

20.50

20.00

19.50

8½" x 11″

131081B

24.75

22.50

21.75

21.25

8½" x 14″

131084B

28.25

25.75

25.00

24.75

Quick Ship Book Style – 6 (holds six insert pages)

5½" x 8½"

131085Q

27.25

24.75

24.25

23.75

4¼" x 11″

131041Q

29.25

26.75

26.00

25.50

8½" x 11″

131081Q

31.00

28.50

28.00

27.50

8½" x 14″

131084Q

32.75

30.00

29.25

28.75
Art and Die Charge $89
---