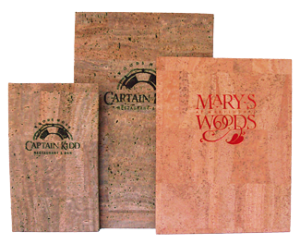 Faux Cork Menu Covers are made in the USA with your choice of Light or dark. Elegantly constructed, Del Mar Faux Cork menu covers feature edges that are turned and glued over sturdy binder board. Our faux cork menu covers are lined with your choice of leatherette or linen material for a pleasing aesthetic for your restaurant. Faux Cork Covers are offered in padded and non-padded versions with corner catches or top and bottom bars. For a more unique look, our Del Mar Faux Cork menu covers are available in a full cork or a cork and leather combination. Available in a variety of sizes and configurations to suit your individual restaurant menu needs.
Create custom menu covers with the many options available, call us and consult with customer service or review our Restaurant Menu Covers Guide.
Faux Cork Menu Covers Colors: Light or Dark
Padded , Non-Padded or Ultra Thin
Matching Check Presenters: Below
Matching

Wine List Covers & Books

available: See Cork Wine List Covers
Corner Catches or Top and Bottom Bars
Custom Sizes and Options Available: Consult customer service.
Decoration: Menu Covers are Foil stamped/de-bossed in one color included in price (Die Charge: $69.00 unless there is an existing die on file)
Click for Foil Color Chart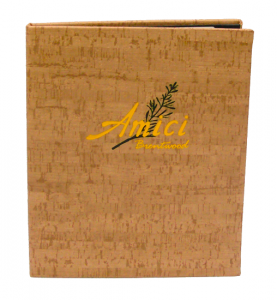 Cork Check Presenters
Matching check presenters in the same material as our faux cork menu covers.
Decoration: "Thank You" in choice of gold or silver foil stamped in the lower RH corner with the No Deco price.
Custom decoration: $65.00 lot price. (Click for foil color chart)
Options: Credit card pocket add $3.00 each
Pen loop add $1.50 each
No Deco – Price Each $ USD

Insert Size

Item No.

12-24

25-49

50-99

100+

5″ x 9″ Double

1310DPC

22.25

19.00

18.50

18.00
Die Charge: $49.00 (Required for custom decoration only).
Sizes based on insert page size
Price Each $ USD

Insert Size

Item No.

25-49

50-99

100-199

200+

Single Faux Cork Menu Covers (holds one insert page)

5½" x 8½"

131085S

14.75

12.75

12.25

11.75

4¼" x 11″

131041S

15.25

13.25

12.75

12.25

8½" x 11″

131081S

18.00

15.75

15.25

14.75

4¼" x 14″

131044S

17.50

15.50

15.00

14.50

8½" x 14″

131084S

20.50

18.50

17.75

17.25

11″ x 17″

131017S

28.50

25.25

24.25

23.75

Double Cork Menu Covers (holds two insert pages)

5½" x 8½"

131085D

21.25

19.50

18.50

18.00

4¼" x 11″

131041D

23.00

20.75

20.25

19.75

8½" x 11″

131081D

28.00

25.50

24.75

24.25

4¼" x 14″

131044D

27.25

25.00

24.25

23.75

8½" x 14″

131084D

35.50

32.75

32.00

31.50

Double Plus (holds two full and one half page)

8½" x 11″

131081D+

36.25

33.50

32.75

32.25

8½" x 14″

131084D+

42.75

40.00

39.00

38.50

Tri-Gate (holds one full and two half pages)

8½" x 11″

131081G

33.00

30.50

29.75

29.25

8½" x 14″

131084G

40.25

37.50

36.75

36.25

Triple Cork Menu Covers (holds three insert pages)

5½" x 8½"

131085T

32.50

30.00

29.25

28.75

4¼" x 11″

131041T

33.75

31.00

30.25

29.75

8½" x 11″

131081T

39.00

36.00

35.25

34.75

4¼" x 14″

131044T

43.25

40.25

39.50

39.00

8½" x 14″

131084T

53.00

50.25

49.25

48.50

Book Style – 4 (holds four insert pages)

5½" x 8½"

131085B

28.75

26.25

25.50

25.00

4¼" x 11″

131041B

29.75

27.25

26.50

26.00

8½" x 11″

131081B

34.75

32.25

31.25

30.75

4¼" x 14″

131044B

33.75

31.25

30.50

30.00

8½" x 14″

131084B

42.00

39.00

38.25

37.75

Book Style – 6 Cork Menu Covers (hold six insert pages)

5½" x 8½"

131085Q

33.75

31.00

30.25

29.75

4¼" x 11″

131041Q

36.00

33.50

32.50

32.00

8½" x 11″

131081Q

41.00

38.25

37.50

36.75

4¼" x 14″

131044Q

40.00

37.25

36.50

35.75

8½" x 14″

131084Q

46.50

43.50

42.50

42.00
Die Charge: $69.00
---